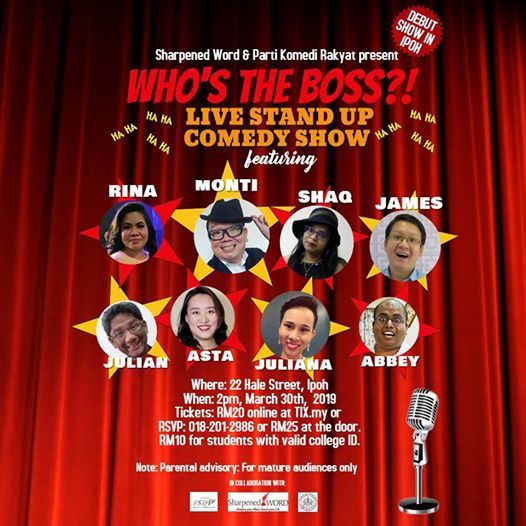 Parti Komedi Rakyat: Who's The Boss (Ipoh)
Parti Komedi Rakyat (PKR) in collaboration with Sharpened Word proudly presents their newest comedy show "Who's The Boss" at 2pm, Saturday, 30th March 2019 at 22 Hale Street, Ipoh. (Google Maps:
https://goo.gl/maps/jWMyv4QkuMw
 )
Parti Komedi Rakyat is Malaysia's left-of-centre without right-of-way comedy troupe that aims to make the rakyat laugh out loud from both sides of the aisle and beyond. This live stand-up comedy crew, based in KL, comprises multi-racial performers that poke fun at all things Malaysian. They slay every sacred cow and take no prisoners in a fun and entertaining show guaranteed to make you roll in laughter.
————————————————–
Parti Komedi Rakyat: Who's The Boss
Date: Mar 30 (Saturday)
Time: 2:00pm
Venue: 22 Hale Street, Ipoh.
(Google Maps: https://goo.gl/maps/jWMyv4QkuMw )
Tickets: RM20 online at tix.my, RM25 at the door
*contains adult content*
*ages 18 and above recommended*
#partikomedirakyat
You may also like the following events from PKR – Parti Komedi Rakyat:
MAP 22 Hale Street, 22-24, Jalan Tun Sambanthan, 30000 Ipoh, Perak, Ipoh, Malaysia