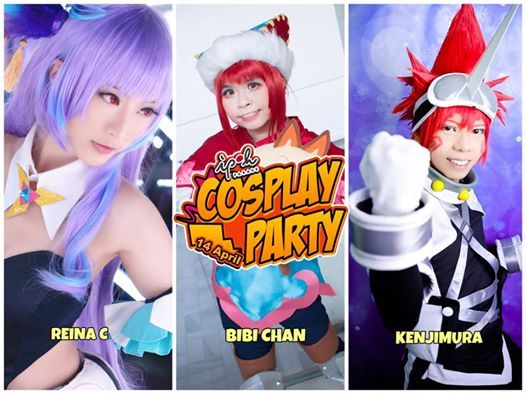 Cosplay Party by Ipoh Parade
Ipoh Parade proudly presents Cosplay Party! Happening at the Main Court of Ipoh Parade on 14 April 2019, we welcome anyone of any nationality or age group to take part! Register here now:
https://goo.gl/forms/XFZ4Eh6vPg1Nty0y2
If you are below 18 years of age, kindly obtain relevant permissions from parents/guardians or institutions where applicable.
Cash & Prizes:
Champion: RM2,000*
1st Runner-Up: RM1,000*
2nd Runner-Up: RM500*
Consolation x5: RM100 worth of prizes each
* 50% cash prize, 50% sponsored prizes
Note: All cash prizes will be given on the spot.
RULES & REGULATIONS
1. This competition is open to solo cosplayers.
2. Tentative programme as follows:
1:00pm Registration
2:00pm Round 1 – Cosplay Runway Challenge
2:30pm Round 2 – Cosplay Mall Tour
3:30pm Break
4:00pm Round 3 – Cosplay Talent Show
5:30pm Announcements of Results
3. Participants may portray a character from any genre, e.g. comic book superhero, MMORPG, literature, film, anime, cartoon, etc.
4. There will be 3 rounds of judging in the competition:
i) Round 1 is the Cosplay Runway Challenge, where each Participant is required to walk on stage in character. Participants will be judged based on their likeness to the original character they're portraying as they walk the runway.
ii) Round 2 is the Cosplay Mall Tour, where all Participants will be parading around Ipoh Parade. Participants will be judged based on their interaction with the public as they assume their characters' identities.
iii) Round 3 is the Cosplay Talent Show, where each Participant will be given a maximum of three (3) minutes to showcase their characters in-depth. This can be in the form of a skit, dance, song, martial art performance, etc. Participants may use their own music, or request for a background track from the Organiser's sound console. Participants will be judged based on how well they portray their characters as they perform and their showmanship, e.g. a Participant may choose to depict Darth Vader in typical fashion with a lightsaber show, but could also opt for a more comedic route, i.e. a dance. Round 3 bears the highest marks across all rounds, so Participants are advised to think carefully about the nature of their performance here. For further clarification, contact the Organisers.
5. Judges' decisions are final and no correspondence will be entertained.
6. The Organisers reserve the rights to change the competition requirements, format, schedule and prizes according to needs and circumstances without prior notice.
Please email 
[email protected]
 should you have any further queries!
Note: The Organisers reserve the right to use any photograph/video taken at the event without the expressed written permission of those included within the photograph/video. The Organisers may use the photograph/video in publications or other media material produced, used or contracted by it including but not limited to: brochures, invitations, books, newspapers, magazines, television, websites, etc.
To ensure the privacy of individuals and children, images will not be identified using full names or personal identifying information without written approval from the photographed subject, parent or legal guardian.
Any person attending the event who does not wish to have their image recorded for distribution should make their wishes known to the photographer, and/or the Organisers.
Deadline for registration: 7 April 2019
#ipohparade
You may also like the following 
events from Ipoh Parade
:
MAP
 Ipoh Parade, 105, Jalan Sultan Abdul Jalil Lot G25, Ground Floor, Ipoh Parade, 30450 Ipoh, Perak, Ipoh, Malaysia