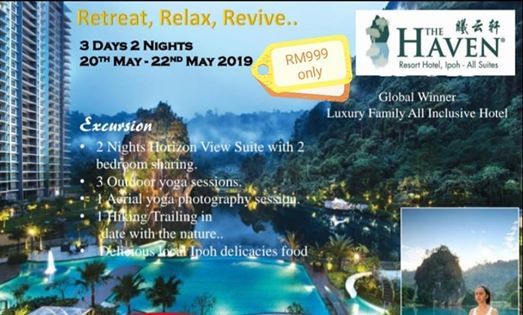 Retreat, Relax, Revive At Haven
Hi Yogis! I am excited to announce that I will be doing a yoga retreat on 20th May – 22nd May (Mon-Wed) ) at the beautiful Haven Resort in Ipoh.
You may ask yourself, why do I need to join a yoga retreat when I can practise at home or at the centre? Well, a yoga retreat allows a yogi to deepen their practise without the distractions of your daily life. Retreats allows you to take a momentary breaks from your routine so that you can focus on your own wellbeing, physically and mentally.
The retreat will centre around relaxation, while working on strength and flexibility. We will revisit all the core foundation work of Yoga in the truest sense of the teachings in yoga. The best way to do this is definitely through shared passion and energy in a retreat.The retreat is suitable for beginners to intermediate yogis with a total of 4 yoga sessions and 1 Aerial Yoga photography session where you will get to keep the soft and hard copy of your pictures taken by a professional photographer.
Our mornings will be filled with energizing sun salutions, and we will end our practise with sunset walks.Come join us now to the World Luxury Award Winner Suite Resort in Ipoh!
Grab the early bird offer at RM999 only!
(early bird price offers till 30th April)
After early bird price – RM1200 nett.

Retreat programs includes:
3 days and 2 nights stay at Horizon View Suites.
3 Outdoor yoga (meditation deck, rock garden and lakeside garden)
1 Aerial yoga with Professional photography – TBC on venue
1 Outdoor Morning meditation and strolling. (Meditation deck)
2 breakfast, 3 lpoh delicacies lunch, 2 set meals and buffet dinner.


MAP
 : The Haven Resort Hotel Ipoh All Suites, Jalan Haven (Persiaran Lembah Perpaduan), 31150 Ipoh, Perak, Ipoh, Malaysia