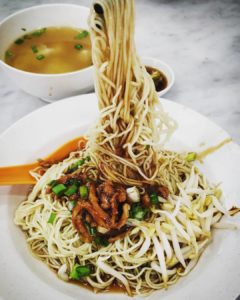 All the way in Buntong new village
Over 40 years of history, famous Buntong Wantan Noodles brings an interesting taste!
The noodles had a good texture, with bounce but not hard neither soggy. Also noteworthy to say that the noodles dont have the lye taste. Wantons were standard and smooth. Flavour wise slightly underwhelming but all in all a really decent plate.
文冬新村祥记云吞面,几乎成了当地人的集体味蕾回忆,名副其实的"道地美食"。
这间老店已经擁有40多年的歷史了,是文冬里家庭式的祥记云吞面,他们以鸡蛋加上经典配方的自制云吞面,是不一般的云吞面, 它的云吞面很爽口又不油腻,肉碎粒很甜味,还有脆脆的豆芽,然后配上青辣椒,你会感觉味道无比.
这家的云吞面仿佛颠覆我们印象中的云吞面。老板舍多工的叉烧,以自家制的酱汁肉丝取代之,搭配的是文冬新村的芽菜,呈现出非本地人能理解的当地"咸香味.
老板已退休了,也许已没机会要看老板的"表演"了。女儿接班后的祥记云吞面.